Scottish Gold & Chalk Stream Sewage
The latest news on nature and conservation in the UK.
Welcome to Inkcap, a newsletter about nature, ecology and conservation in the UK, written and reported by me, Sophie Yeo.
This is your Friday digest. If you haven't done so yet, you can still read Wednesday's feature on why campaigners are calling for a ban on burning peatland.
After Wednesday's feature appeared in the Manchester Mill, I got a little jump in subscribers: welcome! So I thought it's probably worth re-introducing myself, and Inkcap, for those folks who have recently joined us here.
I'm Sophie, a freelance journalist based in Newcastle-upon-Tyne. I write about the environment; I have never written about anything else. Five months ago, at the beginning of lockdown, I set up Inkcap because I wanted to create a publication where UK nature was covered both consistently and in-depth – and because I was worried about the future of the media in the face of pandemic-related budget cuts. I feared that environmental journalism would be the first to go.
Inkcap is run off voluntary donations for now; if you want to help Inkcap going, please click the button below to become a paid subscriber. It also helps a lot when you share articles on social media, and especially when you recommend Inkcap directly. Thanks everyone, and enjoy this week's digest!
---
National news
Ash dieback | Some 40,000 trees may have to be felled by the National Trust, after a warm and dry spring caused a surge in ash dieback disease. The situation was exacerbated by the coronavirus lockdown, which meant that rangers had not been able to access sites for their usual maintenance work. Woodlands around the home of the painter John Constable are under threat, as are sites in the Lake District that inspired Beatrix Potter. The charity is expecting the work to cost around £2 million, reports the BBC. The Guardian, the Telegraph and the Independent also covered the story.
Tree inquiry | Parliament's cross-party Environment, Food and Rural Affairs Committee has launched an inquiry into tree-planting and woodlands in the UK. It's in response to a massive acceleration in the rate of tree-planting to offset greenhouse gas emissions. "Questions have been raised about whether the targets are the right ones, whether the right types of trees will be planted in the right places, and whether enough is being done to protect existing woodlands," the Committee says. There is a Twitter thread about it here.
Scottish gold | This unusual story in the Independent caught my eye this week. There has been a rush of people panning for gold in Scottish rivers, following the blasting of a commercial gold mine in the nearby hills. The mine itself is in a national park, and only won approval following a tussle with environmental groups; as a result, production will not involve cyanide, which is used elsewhere for processing but raises environmental concerns. The story first appeared in the New York Times.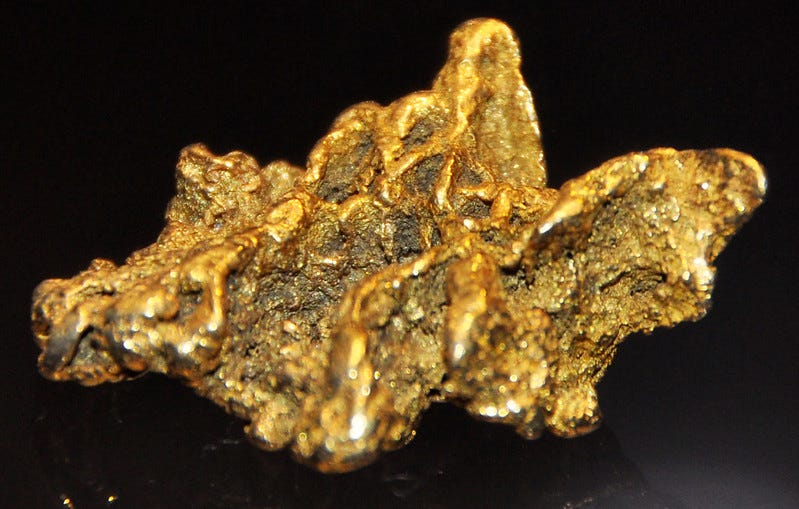 In other news:
The Agriculture Bill has completed its final stages in the House of Lords and will now return to the Commons.

Greenpeace has dropped a giant rock outside Defra HQ to protest destructive North Sea fishing, reports the Guardian.

The government's "green social prescribing" public health pilot is now open for applications.
---
Across the country
Norfolk | A farmer in the village of Great Snoring (really!) has hit out at Anglian Water after a mains sewer pipe burst beneath his land, which leads down to a chalk river, reports the Eastern Daily Press. He said it was the third time that the pipe had burst. Anglian Water said that there had been no damage to the watercourse. The newspaper also has an in-depth feature on how often sewage is discharged into rivers and the sea. Separately, in Northern Ireland, the infrastructure minister has granted permission for continued sand dredging at Lough Neagh, which the Green Party leader said "is thought to have had a devastating impact on the entire ecosystem of the lough," reports the BBC.
Bristol | The Bristol Post has an excellent interview with Manu Maunganidze, a local teacher who is widening access to nature for Black children. The article really digs into some of the underlying issues that prevent children of colour from accessing the countryside. "The land of freedom is different for a white person compared to someone whose ancestors had been enslaved to the land or tied to the land," says Maunganidze. "There is a historic difference which can cause a difference in perception."
Shropshire | A community land trust has raised £100,000 in just two days to purchase a 94-acre patch of land called Norbury Hill. The land will join two currently separated sites, creating a wildlife corridor. The site is part grassland and part bracken, and the group will now survey the area and decide how to conserve it, reports the Shropshire Star. That's not the only land purchase victory that the newspaper reports on this week. A coalition of local groups has successfully raised £25,000 to buy Cudwell Meadow, a three-acre site that will now be turned into a wildlife haven.
Elsewhere:
---
Reports
Natural England | The government's nature agency has set out its vision for the next five years. It says that it is putting at its heart "helping all children, wherever they live, to enjoy the benefits of a thriving natural environment." It focuses on four programmes: resilient landscapes and seas, sustainable development, greener farming and fisheries, and connecting people with nature. You can read the report in full here.
Farming | The Nature Friendly Farming Network has released a new report about finding the balance between food production and nature. It features a number of case studies, and the introduction makes much of the transition to a post-Brexit subsidy system where farmers are paid for public goods. "Is it time to change the definition of a farmer's role in society? I believe it is," writes Martin Lines, the chair of the network. There is also a forward by Ben Goldsmith, a non-executive board member for Defra.
Nitrogen | There is no "one size fits all" solution when it comes to clearing up atmospheric nitrogen pollution across the UK, according to a new report from the Joint Nature Conservation Committee. Some sites will benefit most from mitigating the immediate source of nitrogen pollution, while more remote locations will require emission reductions across the UK and abroad. Nitrogen pollutants originate mainly from agriculture and combustion, and are a major driver of biodiversity loss in the UK.
---
Science
Beavers | A new study by a group of Finnish academics has put a dollar value on the ecosystem services provided by beavers across the entire Northern Hemisphere. And it turns out that beavers have a lot of financial clout. Each service is worth hundreds of millions of dollars annually, the researchers found, with habitat and biodiversity provision and greenhouse gas sequestration among the most valuable. "Implementing Payments for Ecosystem Services schemes offer a concrete way for societies to benefit from beaver‐produced services while concurrently compensating beaver‐produced losses accrued to landowners," wrote the authors.
Pollinators | A systematic nationwide study of pollinators is a cost-effective way of measuring the decline of these insects over time, according to a new study led by scientists at the University of Reading – and particularly so when you compare it to the costs of losing the services of pollinators in the UK. "Our analysis shows that large-scale and long-term pollinator monitoring schemes can be cost-effective and add tremendous value to food security and wider scientific research," said Tom Breeze, the lead author of the paper.
Citizen science | How can you make sure that citizen scientists aren't accidentally harming the wildlife they are studying? When research involves the capture and handling of animals, there are clear risks, and a new study published in People and Nature looks at the potential role for regulation. It suggests that informal regulations could be the middle ground that protects animals without creating barriers to participation.
---
Driftwood
Ownership | Who owns England's most important habitats? That's a question that Guy Shrubsole and Tim Harris investigate in a new blogpost. There's an abundance of fascinating information here, with an accompanying spreadsheet for those who want to really dig into the data. In particular, it looks at which landowners have the largest percentage of their land designated as Sites of Special Scientific Interest. Unsurprisingly, the RSPB holds the top spot; more surprisingly, they are followed by the Ministry of Defence.
Rewilding | Ben Goldsmith has written a comment article in the Evening Standard looking at the potential for rewilding across Britain, particularly in light of Boris Johnson's pledge to protect 30% of the land for nature. How can this be done across intensively farmed landscapes? "The key is for the Government's flagship new Environmental Land Management Scheme to reward farmers in our remoter landscapes for moving away from intensive livestock to the extensive grazing of native cattle," writes Goldsmith.
Spells | The Guardian has a short feature on The Lost Spells, the latest collaboration by Robert Macfarlane and Jackie Morris. It follows their last book, The Lost Words, which was phenomenally popular, with a campaign to get copies into more than 600 schools. "It's a celebration of the nearby wild. If there is a message there, it is simply wonder and awe at the beautiful complexity of the non-human. And respect, for the wisdom of trees, the shape of a bird, the wild of the fox," said Morris.
Further reading:
---
Happy days
Books | Countryfile has composed a long list of the best books on nature and wildlife to read this autumn, accompanied by short reviews from a collection of other nature and travel writers. There were plenty here that I hadn't heard of, so if you want some new ideas, I'd recommend flicking through this compilation.
---
Inkcap is 100% reader-funded.
If you value independent environmental journalism, please consider supporting Inkcap by becoming paid subscriber. (If it takes you to the landing page, simply re-enter your email.)
Got an opinion? Leave a comment, or get in touch by replying to this email.
Image credits: Neil Howard, James St. John, Mircea Ploscar, Harry Strauss