Tory Nature Pledge & Raptor Crime
The latest news on nature and conservation in the UK.
Welcome to Inkcap, a newsletter about nature, ecology and conservation in the UK, written and reported by me, Sophie Yeo.
This is your Friday digest. If you haven't done so yet, you can still read last week's feature on the ancient art of coppicing.
Thanks all for being so patient while I was away on holiday last week; I was especially touched that some of you even sent me nice emails! We had a lovely time building campfires, following kingfishers down the Thames and wandering around stone circles.
I was also delighted that Inkcap got its hundredth paid subscriber while I was away. It's brilliant to know that so many of you value this project and want to support it; and the more people who subscribe, the more time I can devote to researching and writing each story. If you need any further encouragement to sign up, tomorrow is my birthday!
---
National news
Biodiversity | The big news this week is Boris Johnson's pledge to protect 30% of the UK's land for nature. That sounds good in theory – but, in practice, around 26% of the nation is already protected in some way, including as national parks or areas of outstanding natural beauty. The additional 4% means such protections will be extended to an additional 400,000 hectares. But campaigners were quick to point out that existing protections have been insufficient in the battle to protect biodiversity. Many SSSIs are in a poor condition, as are national parks. Both the National Trust and Rewilding Britain stressed that the government would need to back up its commitment with strong actions, including actually prioritising nature within these landscapes. George Monbiot has written a characteristically withering analysis in the Guardian. The Wildlife Trusts launched its own fundraising drive, aiming to raise £30 million to "start putting nature into recovery across at least 30% of land and sea by 2030".
Peat | It's that time of year again when peatland can be legally burned for land management, a practice that campaigners say is Britain's equivalent of destroying rainforests. There has been a seven-fold increase in burning on England's peatlands since the 1940s, reports the Independent. The burning takes place to ensure that there is enough heather for grouse to eat before they are shot for sport. The RSPB, alongside a number of local authorities, is urging the government to immediately ban burning on moors managed in this way. "The Government has long promised to end the burning of peat, it has widespread public support, and the Secretary of State, George Eustice, now needs to make good on this pledge," said Beccy Speight, the head of the RSPB.
Butterflies | The number of butterflies counted during this year's Big Butterfly Count dropped by 34% per person compared to 2019, according to Butterfly Conservation. This was the lowest average number of butterflies logged since the event began eleven years ago, in what is potentially a worrying sign for butterfly populations. But not necessarily: there was a record number of participants this year, who may have been less experienced spotters, hence the lower numbers, explains the Guardian. Moreover, an unusually warm spring meant that many species emerged earlier than usual, and could therefore have been missed during the event, which takes place later in the summer. Separately, scientists have been measuring the temperatures of butterflies to assess how they will fare under future climate change scenarios, reports the Independent.
In other news:
---
Across the country
Somerset | Pollution levels in Somerset's rivers are "absolutely terrifying", according to a councillor in Taunton, in response to a nationwide assessment of rivers by the Environment Agency, the BBC reports. It's a telling snapshot of what has been taking place across the UK: all of the country's rivers failed to meet the agency's standards. Separately, there is a feature in Countryfile about Natural Resources Wales' response to a dramatic pollution incident that took place in the River Llynfi in July, including the chances of a prosecution. In better news, a new £6.8 million project to restore the River Dee has been launched, reports the Shropshire Star.
Perthshire | In 2016, a young golden eagle disappeared over a grouse moor in Scotland. The bird had been tagged – and that tag has now been found, wrapped in lead sheeting and cast into a river a few miles away from where it stopped transmitting, with its antenna cut off. The RSPB says that this is "unequivocal proof" that the bird was illegally killed, reports the Courier. The Scottish Gamekeepers Association disagreed. That the bird was a victim of persecution "is one of many possible interpretations," a spokesperson said. The story was also covered in the Guardian and the Ferret.
Cambridgeshire | Natural Cambridgeshire has announced plans to double the amount of land managed for nature in the county, acknowledging that it currently sustains just half the national average relative to its size, reports the Cambridge News. The ambition was set out last year, but now the organisation has revealed more detailed plans on how to achieve the goal. These include several projects, including a new forest in the Gog Magog Hills and increasing the quality of floodplain meadow in the Ouse valley.
Elsewhere:
---
Reports
Crime | A report by the RSPB outlines all the known offences against birds of prey in 2019. There were 85 confirmed incidents in the UK last year, with 28 of these in Scotland. Birds killed included goshawks, hen harriers, sparrowhawks and buzzards. "These are only the incidents we know about: more birds will certainly have been killed and not found, or their deaths not reported," the report says. Its central message is that self-regulation within the grouse shooting community has failed, and that the government needs to implement tougher legislation to bring the industry in line. The Guardian and the Independent cover the story.
Plants | Kew has released its State of the World's Plants and Fungi report. Its headline finding is that two-fifths of the world's plants are now at risk of extinction – but there is also a section dedicated specifically to the UK and its overseas territories, highlighting the need to properly understand what is growing in order to guide conservation efforts. One of its more surprising findings is that, in some places, beekeeping is harming biodiversity; in London, there is insufficient nectar and pollen to support current beehive numbers, which leads to honeybees outcompeting wild populations. The Times has covered this angle.
Green recovery | The RSPB has released a report outlining its green recovery plan. It contains a combination of ideas and case studies, but I found it interesting less for its content and more for the scathing review that it elicited from their former conservation director Mark Avery. (To be fair to the RSPB, this is because there seems to be a new green recovery report published every week, whereas scathing reviews are in shorter supply.) He writes that it is "not easy to write a document which maintains a working relationship with government… when that government is dismantling environmental protection." You can read the entire thing here; it goes into the interesting tension between influence and access.
---
Science
Blue Planet | The documentary series Blue Planet II was credited with reducing plastic use among consumers, yet researchers from Imperial College and Oxford University have found that there is actually little evidence to support this link. "Our results support the hypothesis that, due to the complexities of human behavior, exposure to a single documentary is unlikely to lead to a distinct increase in individual pro‐environmental actions," the researchers write, although the impact on policy remains unknown. The study was covered by the Independent.
Biodiversity | Analysis by researchers at the Natural History Museum, alongside the RSPB, shows that the UK has the least amount of intact nature left of all the G7 countries, and is the third worst nation in the EU after Ireland and Malta. The findings are based on the Biodiversity Intactness Index. "The way we use the land in our country has left its mark not just on the landscape, but on our biodiversity," said the museum's biodiversity researcher, Adriana De Palma. The Telegraph covered the research.
Nature | Natural England has released the first dataset and analysis from its People and Nature Survey, looking at how much time people spend outdoors. The survey covered the period between April and June 2020. "Some adults in England were getting outside more often than usual with 40% of adults reporting that they had spent more time outside since the coronavirus restrictions began," the report says. At the same time, 35% reported not having visited a natural space in the last two weeks – a situation that was more common among those living in deprived areas or from minority ethnic groups.
---
Driftwood
Political chat | The environment secretary, George Eustice, gave a speech outlining the government's vision for tackling biodiversity loss at home and abroad, including the intriguing statement that the UK would be spending more of its international climate finance on nature. Zac Goldsmith, the environment minister, wrote on a similar topic in the Telegraph. "Nature-based solutions… could provide a third of the cost-effective climate change mitigation we need, while helping turn the tide on the extinction crisis," he writes. "Despite this, they attract a measly 3 percent of global climate funding. It makes no sense at all."
Reintroductions | When I included it a few weeks ago, Simon Phelps' article on rewilding was the most popular link in the newsletter by far. He's now written another in-depth article around what species we should be introducing in the UK and the rationale behind these decisions. "Surely we cannot leave it to the vagaries of money, campaigning, lobbying and desire?" he writes. You can read the whole thing on his blog.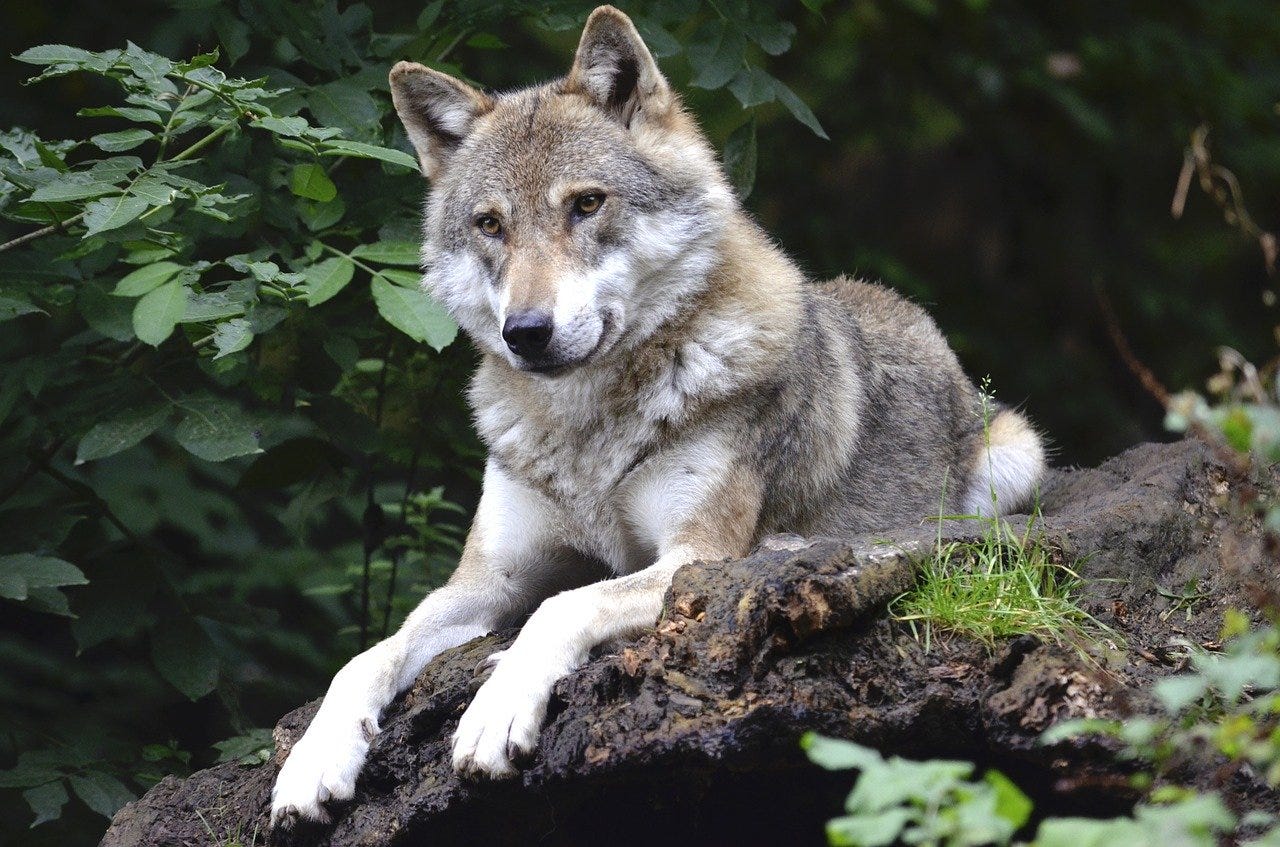 Rivers | The state of the UK's rivers is one of the great ecological scandals, as Environment Agency data recently revealed. If you want to explore this topic in more depth, I recommend this thorough article by Ali Morse, water policy manager at the Wildlife Trusts. Importantly, she points out that the sudden drop in water quality isn't because rivers have become more polluted – "the change is because the way we monitor chemicals in our environment has improved," she writes. In other words, our rivers have been chemically tainted for longer that the official statistics would suggest.
Further reading:
Nature groups are renewing their demands for a National Nature Service off the back of new YouGov research.

NatureScot has released new technical guidance on assessing impacts of proposed development on Wild Land Areas.

A coalition of NGOs has launched a petition calling for an amendment to the Scottish EU Continuity Bill that will provide stronger protection for nature after Brexit.
---
Happy days
Berries | This is a peaceful and interesting read about picking berries from native trees in Scotland and smashing them up to extract their seeds, which can be sown next spring. The hope is that these can be grown into saplings that will then encourage the natural regeneration of native woodland at the Talich Wildlife Reserve in Scotland. It has some advice on how to do it yourself, if you're looking for an unusual way to pass the autumn days.
---
Inkcap is 100% reader-funded.
If you value independent environmental journalism, please consider supporting Inkcap by becoming paid subscriber. (If it takes you to the landing page, simply re-enter your email.)
You can share this newsletter on social media.
Got an opinion? Leave a comment, or get in touch by replying to this email.
Image credits: Mal B, Alison Day, Lutz Koch, Andrea Bohl